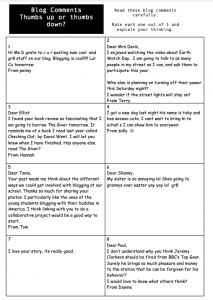 I think 7 is the least helpful because they only had one sentence, and why it 'was good', no 'dear' or sign off either.
The next is Number 6, probably has nothing to do with what the blog is saying and uses slang language as well.
Number 1, at least has a 'dear' and a sign of, but it is very inappropriate for a comment to a teacher using very slang language like 'gr8' and 'c u', not formal like you should do to a teacher.
The next least helpful is No. 4, because it probably has nothing to do with what was posted on the blog, and no 'dear' either. It has very incorrect grammar like 'everywon' and 'scholl s' when it's supposed to be 'school so'.
Number 8 consists of more questions than comments but colloquial language is used more than formal language.
I think 5 is quite helpful but it doesn't have any questions and short and simple sentences. Overall it is helpful and is kind of formal though.
Next should be Number 3, with a great comment and use of formal language.
Number 2 is the most helpful with questions, paragraphing and relevant and formal language.